Thursday, January 06, 2005
Cheers!
special thanks to
Zen Unbound
for linking to this here humble Tao-blog!
Seamus Anthony - Author, Musician, Contemporary Taoist.
Click here to read The Contemporary Taoist monthly print column at LivingNow Magazine
, Australia's most widely read Holistic Lifestyle magazine. (I also run LivingNow's website.)

Feed Me!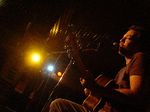 Click to download my tunes free!
Categories
Goals
Humour
Personal Development
Taoism
Exercise
Self-Improvement
Motivation
Health
Writing
Blogging
Books
Happiness
Marijuana
Meditation
Movies
Productivity
Marijuana
Tao
Zen

'Knowing is not enough, we must apply. Willing is not enough, we must do.'
Bruce Lee.


Archives
'Refining the self, and setting up the foundation are not a matter of forced control, forced effort, or austere practices. What the work requires is first to recognize the natural, innocent true mind, and then to use this true mind to refine the self. Then a point of celestial energy emerges within the darkness - this is called true consciousness.'
Chang Po-Tuan (commentary by Liu I-Ming)
Real World Friends
Blogroll Like Water
---
Sifu Dana Wong of Qian Li Dao Academy (Wing Chun)
---